Appulate allows users to fill out, download, send by email, and send to sign ACORD and Supplemental forms.
ACORD forms associated with the insurance line and Supplemental forms associated with markets selected on the Quote request page can be found on the Forms page. To open it, click Forms on the Quote request page.

Note: The Forms page is available only when you've already created an insured and a quote request.
Some ACORD and Supplemental forms may be hidden. Click View all forms to view and add the forms you need.
Some forms may be hidden if a business type is not specified.
Supplemental forms are provided by markets for particular insurance lines and states. For more information, see the Forms List.
To access a supplemental form of a particular market, you need to add this company to your submission using the Add markets button.
ACORD and Supplemental forms are also available under Forms on the Documents page of a policy.
Note: Your company may have certain restrictions regarding ACORD and Supplemental forms. Agents on ProducerConnect Standard and markets without an ACORD license cannot access these forms. For more information, please contact our sales team at sales@appulate.com.
Actions on the Forms page

Each form has the Edit and drop-down menu buttons on its right ("1" on the picture above), which allow you to perform the following actions:
When you select one or more documents, another set of buttons becomes available on the bar ("2" on the picture above) :
Edit: opens the Q&A and Inline editors, where you can fill out the selected forms.
Send Request to Complete: allows you to send a request to complete the form to the insured by email.
Get as one PDF: downloads all selected PDF documents as one file.
Merge PDF: allows you to merge PDF files uploaded by the user. You can merge from 2 to 10 files with a total size of up to 10 Mb. If one of the documents was private before merging the newly created file will be private as well.
Download as ZIP Archive: downloads all selected documents as one ZIP file.
Email
Delete.
You can also upload your ACORD and Supplemental forms. Pay attention to the fact that here you cannot upload ACORD forms that are not associated with the selected insurance line or documents of another type. The uploaded ACORD forms will be parsed and the information will appear in the questionnaire (if you have a purchased OCR license).
Signing
Document signing is a ProducerConnect Premium feature. If you're not on PC Premium trial, you can only sign documents:
during policy binding;
if the market you're requesting a quote from allows its submitters to sign documents of selected submarkets.
You can e-sign a form by clicking Sign in its three-dot menu.
This will open the Send Form for signature dialog. You will then be asked to sign the form in SignRequest.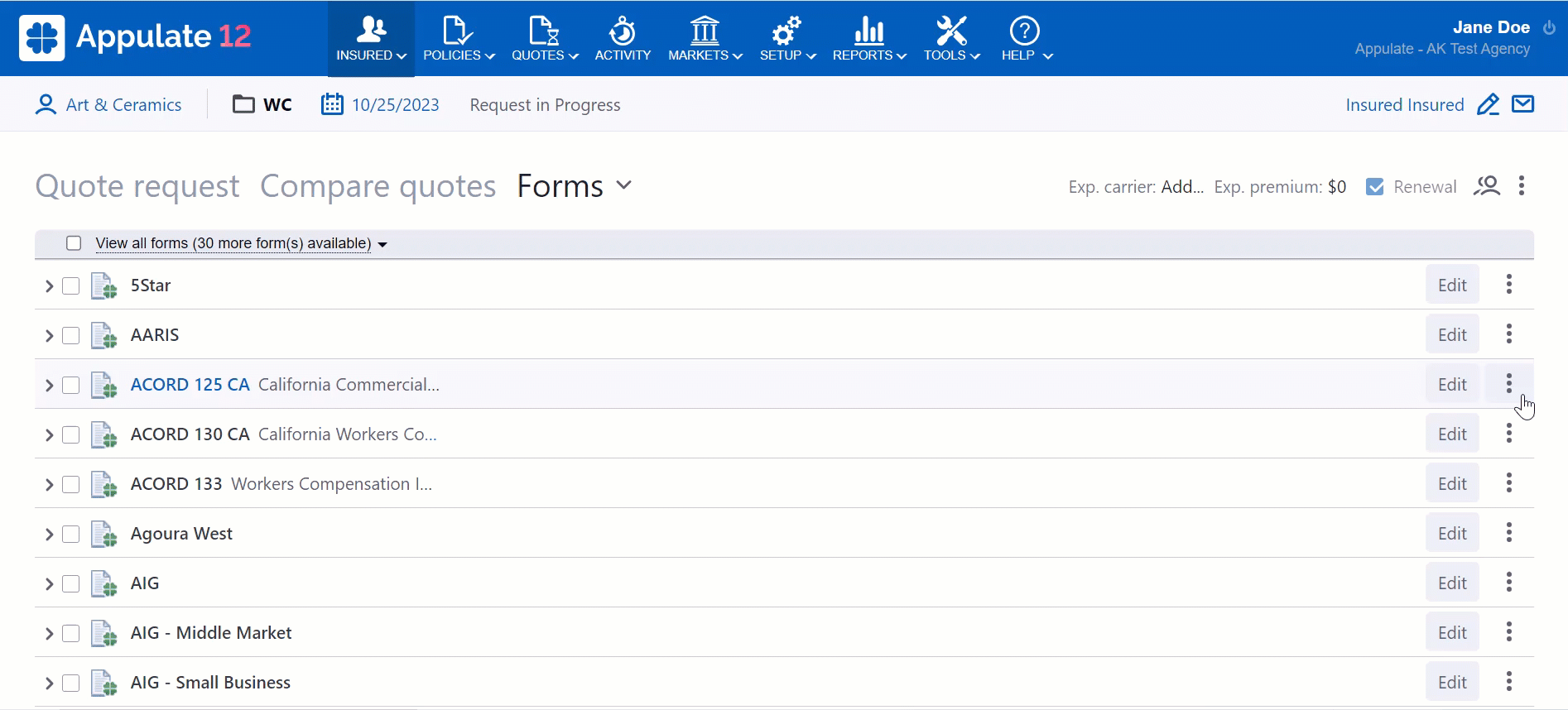 If a form has been signed, it will be displayed in its icon and Actions grid.