To fill out ACORD or Supplemental forms in Appulate, you need to open the Forms page, select a form (or forms) you need, and click Edit.
You can select either one form or several. In this case, the questionnaire will contain all questions from all forms.
To access forms you can use:
Click Back on the editor pages to return to Forms page.

Q&A Editor
The Q&A Editor is used to fill out ACORD or Supplemental forms associated with the open RFQ. Questions given here are based on the questions from the forms selected in the drop-down list.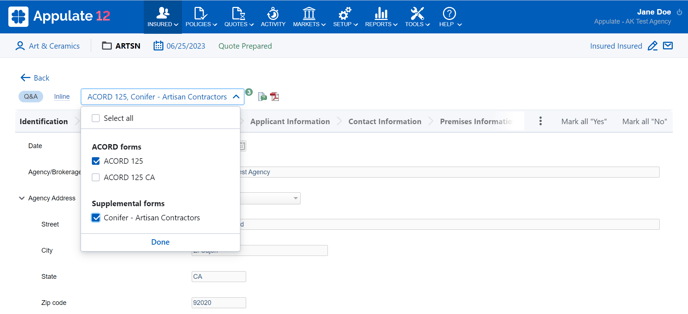 If only one ACORD or Supplemental form is selected, the list of sections in the Q&A Editor corresponds to the list of sections from the real ACORD or Supplemental document; no subsection is used.
If two or more forms are selected, the lists of sections and their subsections are formed on the basis of the questions from these documents.
Buttons and navigation
Button
Description

Send request to complete

This button allows you to send a request to complete the form to the insured by email.

Download Selected Supplementals

This button downloads selected forms in a single PDF file.

These buttons automatically answer "No" or "Yes" to all visible Yes/No questions, i.e. set the option buttons that represent Yes/No questions to "No" or "Yes".

These buttons are located either on the toolbar if the open section has no subsections or in the upper-right corner of the open subsection. Thus, they affect all the Yes/No questions of this section or subsection.

(Hamburger button)
Opens a list of available angle tabs (sections) to switch to another one. The currently open section is in bold on this list. When you point to this button, the appearing tooltip reads: "List of sections to quickly jump to." If all angle tabs fit in the bar, the "Hamburger" button is hidden.
The number, combination, and names of available sections and subsections vary depending on selected ACORD and Supplemental forms. Questions are grouped and distributed among sections ("angle tabs") and subsections.
To switch between sections, click the respective angle tabs or the Previous and Next buttons located at the bottom of the page.
Inline Editor
The Inline Editor is used to fill out ACORD or Supplemental forms associated with the open RFQ. The editor displays forms in the authentic format (in print).
To open the Inline Editor,
Select one or more forms on the Forms page
Click Edit on the bar above
Click the Inline tab.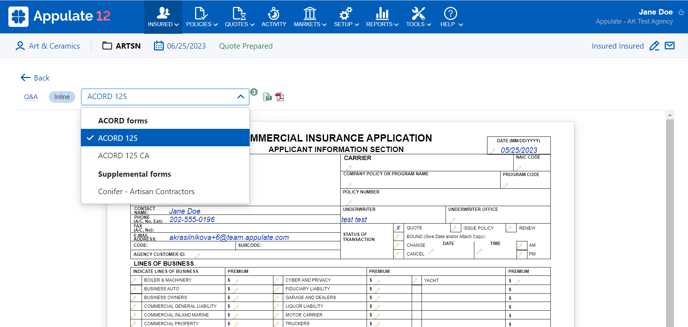 You can select any available form in the drop-down list. Fields that can be edited are marked with

.
| | |
| --- | --- |
| Button | Description |
| Send request to complete | This button allows you to send a request to complete the form to the insured by email. |
| Download Selected Supplementals | This button downloads selected forms in a single PDF file. |