In Appulate, lines of business are called insurance lines. Usually, when markets are registered in Appulate, our team configures insurance lines for each company individually.
Markets can also choose insurance lines they want to provide coverage for in our system. Agencies cannot select insurance lines but work with those provided by their markets. Thus, insurance lines are selected automatically for agencies based on the insurance lines supported by the selected markets.
Note: All actions with insurance lines are available only to Admin users.
For markets
Market users can select or unselect insurance lines on the Setup > Insurance lines page. Both monolines and package lines are available.
The selected insurance lines will be the ones their agencies will work with in Appulate.
Following groups are available:
Commercial monolines
Commercial package lines
Personal monolines
Personal package lines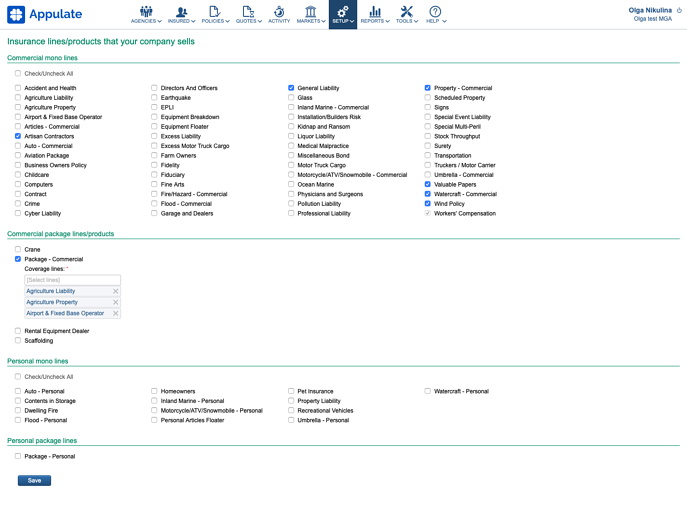 Markets can also configure insurance lines for their submarkets (or partnered markets, usually carriers) on the Markets > Selected > Lines tab.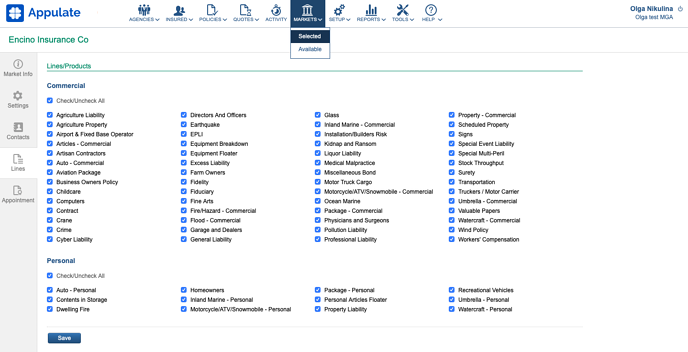 Markets can view the insurance lines their selected agencies work with on the Agencies > Selected > Programs tab.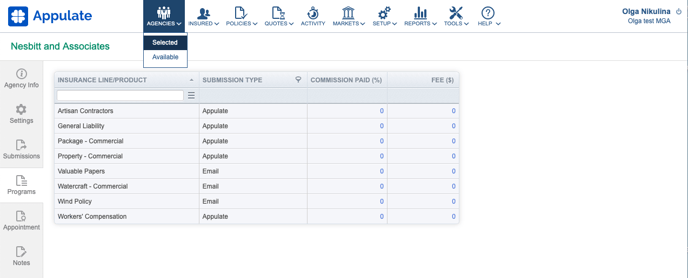 Agencies
As it was mentioned before, agencies cannot select insurance lines but need to find an MGA or carrier that supports lines they want to work with.
Once an MGA or carrier has been selected, agency users can view and choose the market's insurance lines on the Markets > Selected > Lines tab.