What companies in Appulate offer Workers' Compensation, Commercial Auto, Umbrella, etc. quotes?
The Appulate Market Directory page allows you to search for carriers and brokers and their lines of business: https://appulate.com/market-directory
Both carriers and MGAs are registered in Appulate as markets. You can type the name of a line in the Search box or select it in the drop-down list to view all available markets.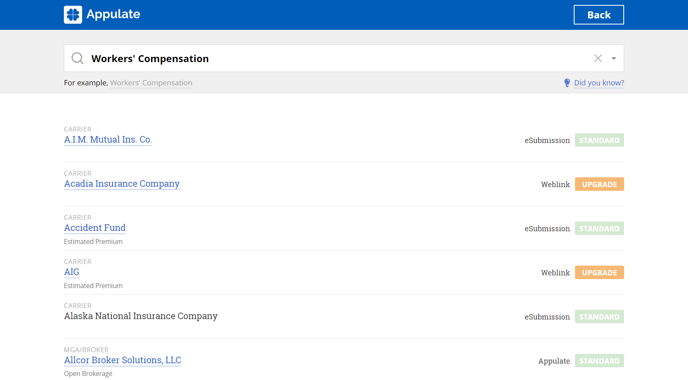 All the markets that have a program for the selected line are shown with the default submission type "Appulate", "Weblink", "eSubmission", or "Email".
The following labels may appear under a market's name to promote features this market can offer:
Estimated Premium. This market is ready to provide a preliminary price of a policy before submission.
Instant Quote. This market supports automatic quote generation, i.e. quotes are created without an Underwriter's assistance.
Open Brokerage. This market is ready to provide quotes and bind policies without the prior appointment with a submitting agency.
You can also find the market's advertising brochures. They are available under the View brochure button.