Appulate uses its SMTP configuration to handle ingoing and outgoing email messages. Thus, if you rely on the Appulate's default configuration to communicate with your partners, your email messages might be misrecognized and marked as spam by the automatic filters because the domain part of your email address (for example, @mail.com) and that of Appulate's (@appulate.com) do not match.
To solve this problem, Appulate adds its real email address as a sender of your outgoing message, and this message is sent from a "known" address but "on behalf of your company". Popular email clients (for example, Microsoft Outlook) recognize this approach and substitute your email address for the Appulate's one when a reply message is created.

Nevertheless, this procedure might fail, and the reply message will be delivered to the Appulate's email address, not to yours. Although the Appulate support team looks through to detect such messages and forward them appropriately, this process takes time and might cause delays in delivery. Therefore, we recommend you to use your mail server.
How to configure
To configure your mail server, do the following:
1. Log in to the Appulate system under an Admin account.
2. Click Settings on the Setup menu to open the Settings page.
3. Find the Mail server setting under General Settings, select the Use my mail server checkbox, and then click Configure.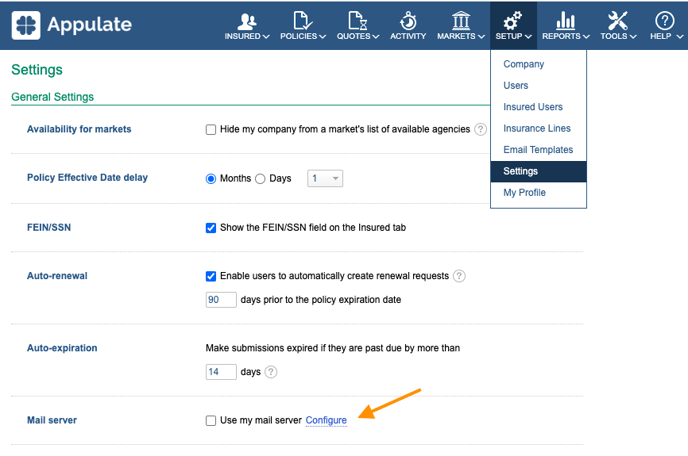 4. In the open Use Custom Mail Services dialog box, select SMTP Server or MS Exchange depending on which mail server you use.
5. Enter an appropriate Server name and port or Service URL under Company settings, and your credentials under Personal settings (optional). Click Test account settings to verify your connection settings, and then click Save to apply them.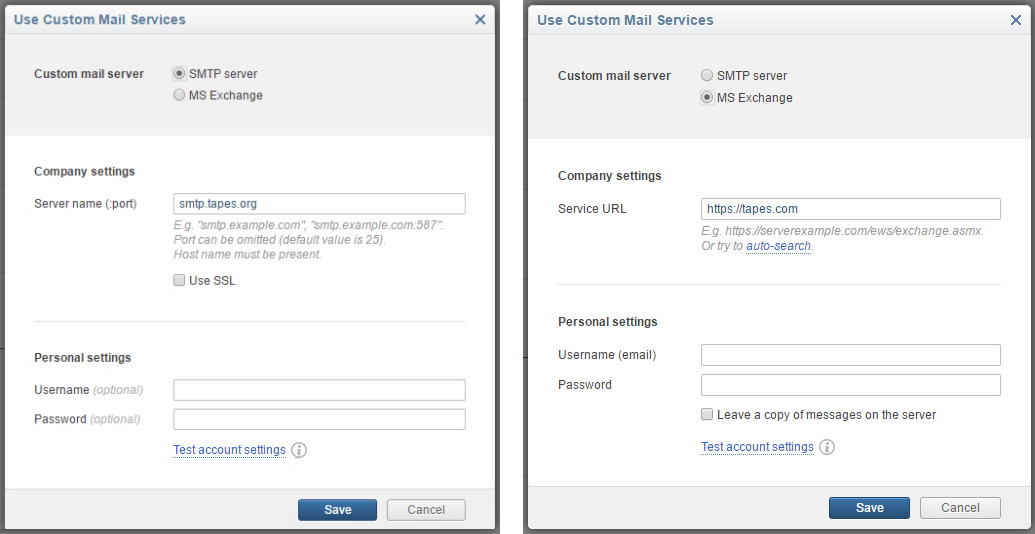 After you have configured your mail server, the users of your company will send email messages from their own addresses.

How to modify
Any user of your company can modify their mail credentials
In the Send Email window, click the pen icon next to the sender box (see the previous figure) and enter a Username and Password in the open Use Custom Mail Server dialog box.
On the My Profile or User Profile page, enter a Username and Password under SMTP Server Credentials (see the following figure) or MS Exchange Credential.