Appulate is constantly integrating new supplemental forms but it takes a lot of time. Some markets require information that is not in Appulate's system. As a solution, Appulate offers supplemental PDF forms that contain the required questions users can quickly fill out. You can find them on the Forms tab.
If a market you selected has a fillable supplemental PDF form for this insurance line, you can fill it out. You will have to download the form onto your computer, edit it, and upload it back to Appulate.
Editing workflow
1. Click Edit on the form's level.
2. This opens a dialog informing you that you cannot edit fillable supplemental forms in your browser.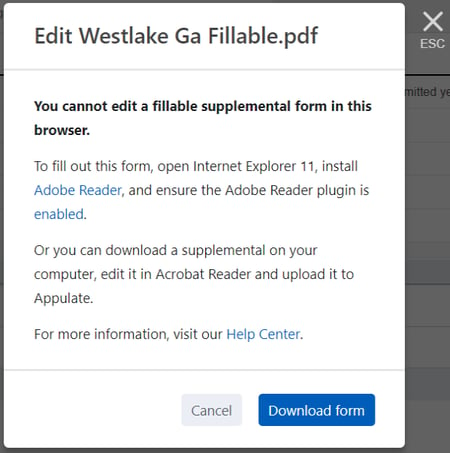 3. Click Download form and fill out the form on your computer.
4. Upload the filled-out form back to Appulate. The form will appear alongside the original template.
Note: You can upload the form by either dragging and dropping it anywhere on the page, or clicking Upload files.